Dear friends and business partners
We appreciate your interest in ORION
For more than 30 years, ORION has been standing for competence in erotics made in Flensburg, Germany. The ORION group is an innovative, independent and globally operating enterprise. Actually and in future, we are going to invest in our headquarters in Flensburg in order to expand our worldwide business network and markets. Eroticism is known to be familiar everywhere – and ORION is just a synonym for it.
By these pages we provide an insight for you into our business relationships, products, and above all our team. We'd like to show you where eroticism is at home and how much heart we put into our work to satisfy our customers!
Eroticism from Flensburg
Competence and passion from a single source
Motivated employees and three successful sales channels make the ORION group an economically independent enterprise. Our sales lines are the traditional mail order business, our internationally successful chain of stores and our globally operating wholesale business.
The heart of the business is located, as it always has been, in Flensburg: over one third of all ORION employees work at the company headquarters on Schäferweg on approximately 18,500 square meters of office and warehouse. Worldwide market information converges here and new product developments are implemented and brought to the different sales channels.
More fun in twos
For more than 30 years, our company was named after Orion, one of the most beautiful and brightest stellar constellations. Inspired by the myth, ORION is a symbol for eroticism and everlasting partnership. This idea is stressed by the company's slogan "More fun in two". Mainly women and couples are ORION customers, who like to add spices to their lives with our erotic products.
Innovation
The satisfaction of the customer always comes first, when developing new products. Focused on the essential ORION creates high-quality love toy series and others. Besides our innovative products, the advertising department again and again provides an excellent eye-catcher, as can be seen in the example illustrated above. This advertising poster ranked in the top 30 list of the BEST NEW 18/1-Awards.
Awards
Excellent: Throughout its long history, ORION has been awarded several times for various product lines, products, for its wholesale business and distinctive marketing campains. We are fond of it, because each of these trophies reflects the tireless commitment of our employees and their consistently new ideas fascinating our customers and wholesalers.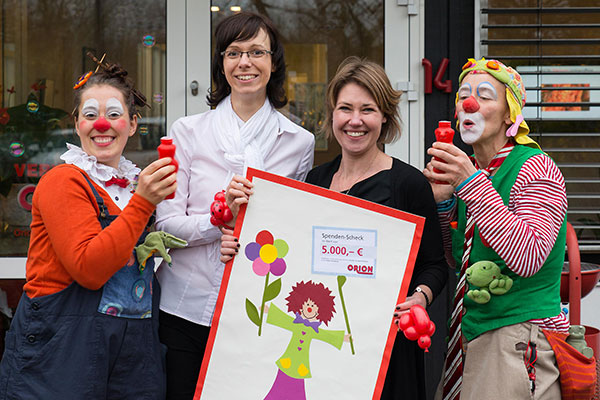 Social Engagement
There are things that are all concerns of the heart for ORION. Some examples for our social commitment: free condom donation to some associations, sponsoring of self-defence trainings "Police and women – together against violence" or the Christmas donation for the Klinikclowns initiative in "Klinik für Kinder- und Jugendmedizin in der DIAKO Flensburg e.V.".
Protection of minors
As a long-time established company of the erotic industry, we know the meaning of youth protection on the internet and we take this responsibility. For more than 10 years, we are active in a charitable association called Jusprog e.V., which provides a recognized youth protection software, free of charge.
Quality and Consistency
Quality and safety are the topmost priorities in ORION. In order to guarantee the high standards o compliance, we cooperate with numerous international operating laboratories. A team of special-trained employees check deliveries immediately upon receipt for any shortcoming of our standards. We are proud to hear "Orion standards" being spoken about in the industry.
What makes us special
and what is essential for us
Respect

Respect of each type of sexuality is self-evident for us. It is up to each person, how to shape their sex life. However, we think: fun, trust, respect, desire and passion should always be included.

Trust

Trust belongs to any kind of relationship. We encourage your trust in us by high quality standards, confidentiality and reliable customer services. Our internal customer services consist of a permanent team of female and male colleagues who can react directly on customers' request, provide samples and ask a product manager for advice.

Fun

We don't miss out on fun in our work. Dealing with erotic products every day, still prompts the play instinct and ingenuity even of our longstanding colleagues. Dildos with integrated suction base keep windows open, nipple-clamps weight down table cloth and shoes are polished with silicone lubricant. And when there are 10 vibrators stand in the hallway, merrily humming, then we know that the quality control is checking the battery performance again.
Made by ORION
Setting trends with our own product development
For 30 years, ORION imposed standards with a customer oriented product development. Label and products are known worldwide and stand for a successful sustainable strategy with the necessary instinct for the business. Erotic and non-erotic suppliers as well as consumers trust in our knowhow.
That applies also to our proprietary fashion design.  At the headquarters in Flensburg, a female fashion designer creates new models for the ORION lingerie label. Then, together with trend scouts, marketing and sales experts, new, sophisticated lingerie and shimmering party outfits are created at the drawing board. The ingeniously designed lingerie is then produced in series by our longstanding ORION suppliers with passion for detail and finally it is made up in strong-selling packaging as required.