ORION and BLOOM have joined forces to create a unique erotic adventure for women. At the centre of it all is the Belou: a lay-on vibrator from ORION and a nominee for the German Design Award 2024. BLOOM has now created an immersive audio guide exclusively for the Belou, which allows women to get to know both the toy and their own pleasure better.
Female pleasure is a little diva
This becomes clear in the ORION sex report, which is based on interviews with around 70,000 people. The data collected clearly shows that many women sometimes struggle achieve an orgasm. The culprits: wrong stimulation or not being able to let themselves go.
The solution? Love yourself!
ORION's sex report also reveals that the probability of orgasm increases by 94% (!) when women familiarise themselves with their anatomy. So, if a woman wants a fulfilling love life, it can be very helpful to discover their own body on their own and to explore what exactly gives them pleasure. In addition to the physical, the mental plays a crucial role in getting women in the mood.
According to the survey, women's own imagination and fantasies are the main source of inspiration. Visual stimuli, on the other hand, only play a minor role.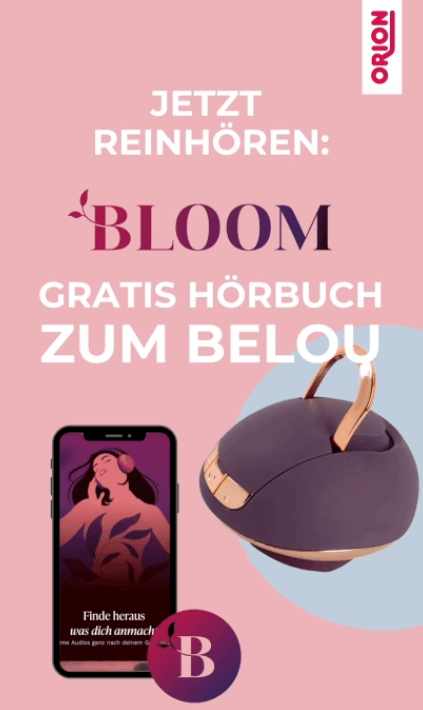 Belou and BLOOM bring together the best of both worlds
With a unique combination of erotic toy and intimate tutorial: because the Belou is made for sensual journeys of discovery. With its silky surface, it adapts perfectly to the female anatomyand delights with both rotations and vibrations. And finally, BLOOM's step-by-step instructions for the Belou – spoken by the top voice actor Alexander – will inspire female lust. The result is an audio experience that creates a truly special kind of pleasure: play with the Belou and listen closely to experience arousal in several different ways at once.
The thrilling tutorial is suitable for all those who are using the Belou for the very first time. But also experienced users will find plenty of pleasure in it.
BLOOM describes itself as a safe space for intimate, personalised and interactive listening experiences. With the erotic audio plays and guides offered, users can find out what really turns them on. In addition, BLOOM offers tracks for sleep and relaxation as well as an AI-based chat function that allows users to get in direct contact with their favourite characters.