Rock-solid, award-winning and anything but analogue: That's why ORION will continue to use print in the future
ORION employee Nicole Brösel is responsible for print and designed our award-winning B2C catalogue for the year 2021/2022. But that's not all: In February of this year, she switched sides and became a jury member at the Bundesverband für E-Commerce und Versandhandel (Federal Association for E-Commerce and Mail Order) – the organization that had previously chosen us as the winner.
Reason enough for us to take a closer look at why ORION still relies on print and what strategy is being used to make this rather traditional medium ready for the future.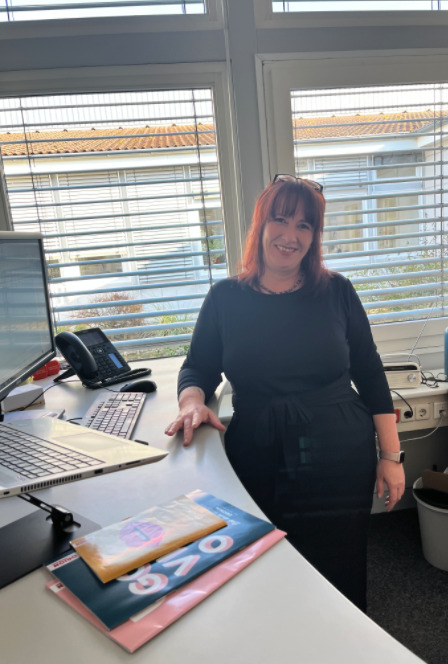 Cross your heart: is print dead?
No, print is definitely not dead. Especially in times of flooded email inboxes and fewer and fewer direct mail items, all those who still rely on print advertising are actually getting more attention again.  
 
What is still in favour of print? And how long will print media be around?  
I think print media will always exist. The first reason being that as a company you can assume a longer shelf life with print compared to a digital newsletter. Even though this naturally fluctuates from one advertising vehicle to the next. In addition, something tangible generally creates more trust than a quick scan of an advertisement on social media. On the business side, print advertising can be increasingly better targeted by drawing structured conclusions from the purchasing history of your customers.
What are the most important disadvantages of print media? 
The clear disadvantage of print is of course the high cost, especially in recent times. Also, print media is unfortunately somewhat slower and less flexible: it can take a few weeks from planning to sending out an advertisement. And with print, it is also difficult to react to sudden developments.
As far as the disadvantages are concerned, people often say that print is not as sustainable as digital advertising. However, recent studies have shown that this is not the case. With digital advertising, it's just not as obvious exactly which resources are being consumed by email traffic or browsing social media.
Are there any print formats that are particularly popular? And if so, why?   
Programmatic printing is on everyone's mind right now. It means using the data available to you to write to each individual customer with an offer and approach tailored to them. The best way to do this is to link the whole thing to a matching email – and to do so in such a way that the individual communication channels are perfectly coordinated with each other. The key word here is kick-off campaign.
 
Let's get straight back to ORION: which print media do we use specifically and why?
We mainly send out promotional postcards – but depending on the selection, some target audiences also receive more elaborate brochures. However, our most important print advertising medium is and remains the aforementioned B2C catalogue: even though many suppliers have just discontinued this form of advertising. We still produce it – successfully and with a lot of passion. Because with this format, we can present ourselves and our product range perfectly. Time and again, we observe that our catalogue is actively used over a longer period of time. This is certainly also due to the fact that we not only present our products, but also provide added informational value. 
 
By the way: there is always a little something special about our print products. No matter which advertising medium we use: for discretion's sake, everything is always sent in a neutral envelope.
 How do you manage to adapt the different types of print media to the target audiences?
Overall, it's a combination of observation and hard work: we take a close look at the products that our customers buy. Then, there is the classification according to frequency and number of purchases, age or gender – whereby we always keep a close eye on the needs of the customers alongside the demographic data. 
 
ORION is actually very social media-savy: how does that fit in with print?
That actually fits very well. On the one hand, we use print to reach the customers we can't reach via social media. But the opposite is also true: our social media community is always very interested in our catalogue when we release a new one. And it also creates trust when, for instance, our sexologist Birte Fulde appears not only on Instagram but also in our print mailings.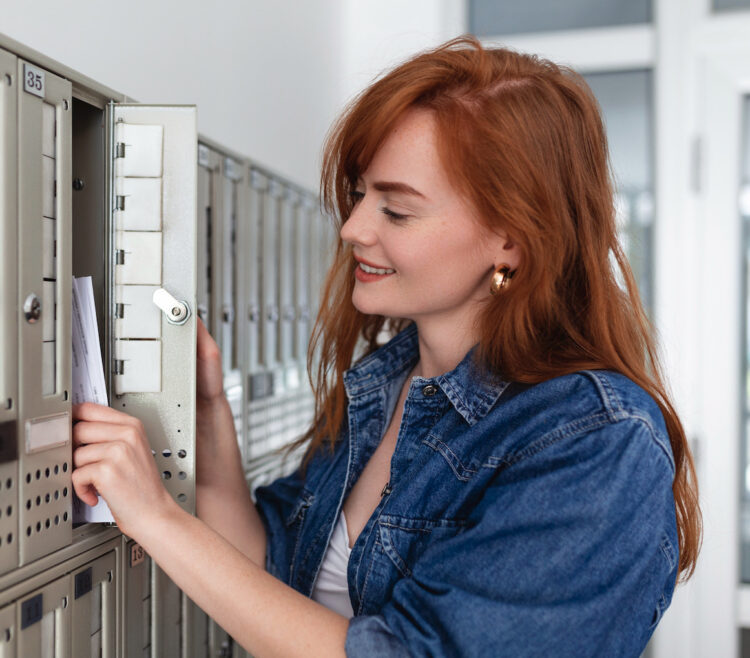 You were catalogue of the year in 2021/2022: what was your recipe for success?
As I said before, our recipe for success was above all a lot of heart and soul, but also blood, sweat and tears. A few years ago, we completely reinvented ourselves as ORION and that was really exhausting for everyone involved.   
What was particularly well received in our winning catalogue, and something that made us one of the pioneers, is the appearance of our colleagues from various departments who publicly position themselves around a wide range of erotic themes. That's not something that can be taken for granted, especially in our industry. But all employees were very happy to participate and put their faces and names to what we do here at ORION.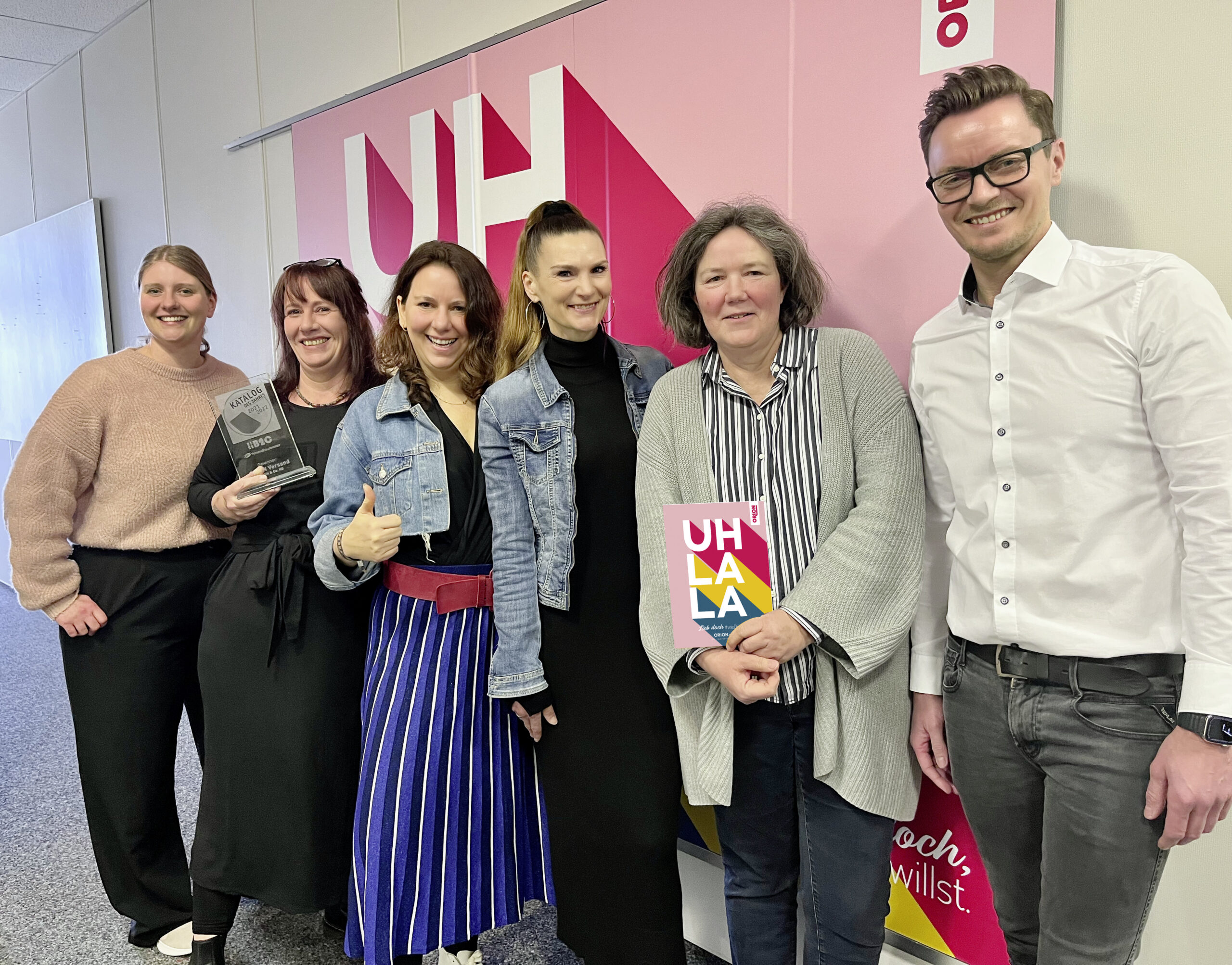 How important is the design of print media for its impact on the reader?
Obviously, there are certain standards, such as visual guidance, stopper pages or a general structure. However, apart from the promotion of our products, another important aspect is the concrete added value for our readers. That is why every catalogue contains tips and interesting facts as well as many anatomical drawings. For topics that require more explanation, we also like to use QR codes to provide further information.
  
Are there any other tips you can share on how to make a successful print product?
A print product should be as authentic and honest as possible. Instead of empty words, it is better to focus on relevant information. In my opinion, it is also very important to give customers the feeling that they are being seen and that their needs are taken into consideration. And of course, discounts and incentives to buy are a must :o)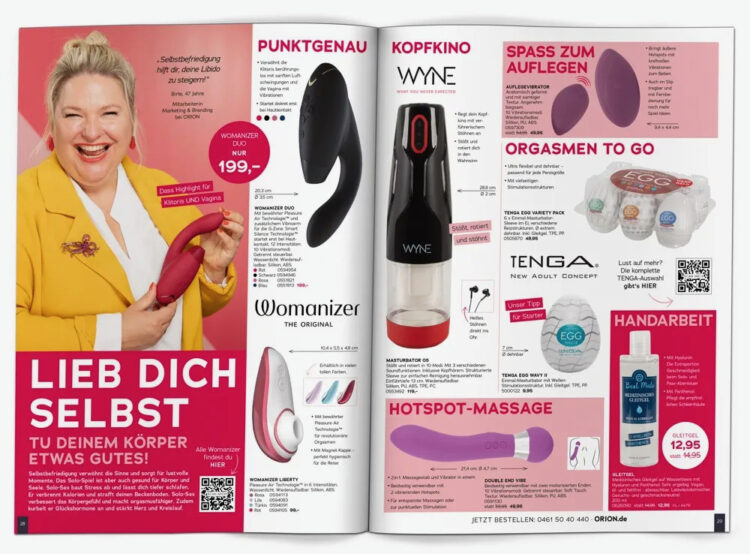 Dear Nicole, let's get straight to you at the end: how long have you been working at ORION?
On the 1st of April, it will be exactly 30 years.   
Have you always worked in print?
No, that's something that happened over the years. I was originally trained as an office administrator at ORION. After completing my training, I worked briefly in our publishing house and then for many years in the copywriting department for Austria and Switzerland. About 6 years ago, I wanted to make another career change and switched to internal product management. There I was able to fully live out my love of numbers again: first in controlling for the print products – then in coordinating the entire print department. In the meantime, ORION uses tools like Business Intelligence for data analysis. This has also expanded my area of responsibility quite a bit.  
And now you're also on the jury of the Bundesverband E-Commerce und Versandhandel (Federal Association for E-Commerce and Mail Order). What was it like: from applicant to juror?
Exciting! I was very happy to take part. But the entire time I had the feeling that our whole team should have taken part. Because those are the professionals for branding, design and copywriting. My main focus is on the target audiences and controlling.
What was the biggest challenge? What was really fun?
The biggest challenge was definitely giving the speech for the B2B Catalogue of the Year. It took place online and it made me very nervous not knowing who was watching. 
 
Besides, I didn't want the winners to be disappointed by my speech. But you grow with your challenges and I put a little note with "I can do it" in front of me beforehand. Speaking in front of an audience is certainly no big deal for others, but it's not really my cup of tea. On the other hand, I really enjoyed the discussions with my fellow jurors.  
Dear Nicole, thank you very much for these little insights into your work!