Christmas is coming: Why ORION 2023 has so much more to offer than just an erotic Advent calendar
Home
/
Press archive
/
Christmas is coming: Why ORION 2023 has so much more to offer than just an erotic Advent calendar
Christmas is coming!
The best thing about Christmas is the anticipation. ORION is convinced of this and this year is once again offering 24 erotic moments of happiness for an all-round merry holiday season. And this time in two versions: because in 2023, the ORION Advent Calendar ORIGINAL and the ORION Advent Calendar PREMIUM will ensure a true holiday of love.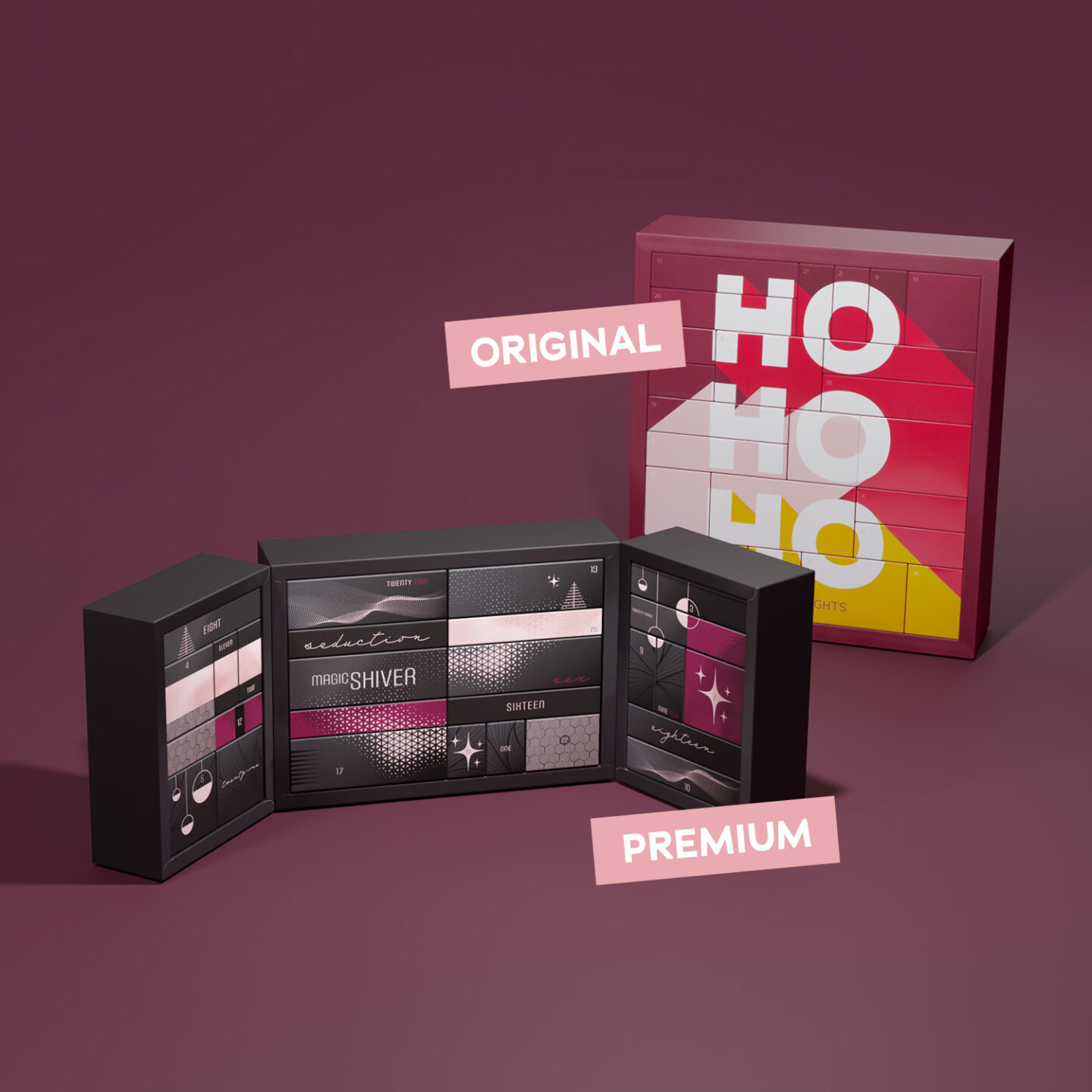 The full Advent calendar experience – the choice is yours!
How can a man or woman decide? First, there is the Advent Calendar ORIGINAL with ORION's highlight from the previous year. Customer satisfaction here is a staggering 94%. This is one of the reasons why this calendar is now once again available for a limited time.
Opposite it is the ORION Advent Calendar PREMIUM. And it also offers bundles of holiday joy. After all, it contains the best of the Advent Calendar ORIGINAL. In addition, there are 5 other exclusive highlights to look forward to – including a pressure wave vibrator from ROMP and a couple's toy from We-Vibe.
What hides behind the doors of the Advent Calendar ORIGINAL?
In any case, a lot of fun and games. Because last year's customer favourite contains a premium quality toy on every 2nd day. In addition, the individual boxes contain lovingly selected accessories that are guaranteed to make the holiday excitement even more intense. An erotic booklet, a card game and a few imaginative dating cards add the finishing touches to the festive season.
The greatest toy pleasure of all time: that's exactly what makes the ORION Advent Calendar ORIGINAL a true delight
It doesn't matter whether you are straight or queer, young or old, alone or in a relationship.
The selection offered here is deliberately broad. The toys included are all multifunctional and can be used regardless of gender. Only one classic pleasure maker is included in the calendar: a vibrating cock ring. With a little imagination, however, this can also be used as a lay-on vibrator for other pleasure zones.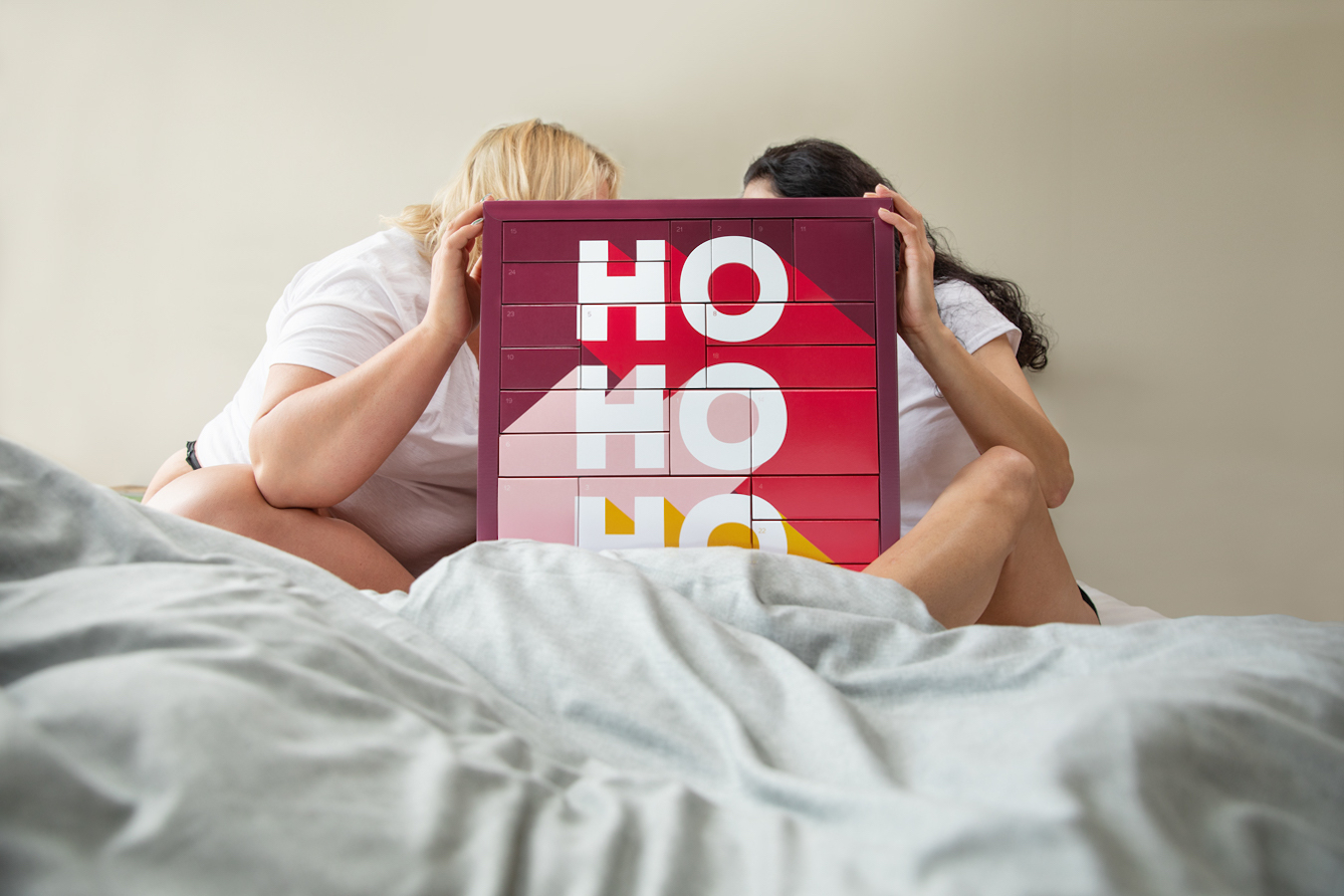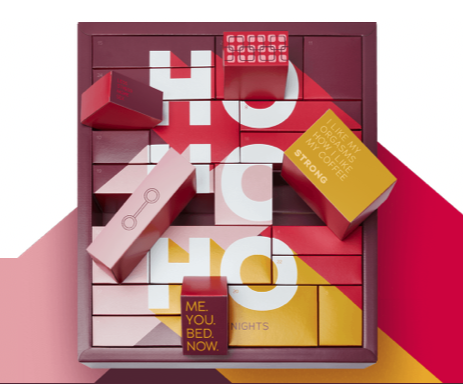 12x toys, 5x foreplay, 4x stimulation und 3x role play
That's exactly what the ORION Advent Calendar ORIGINAL offers and thus nothing less than a complete toy box. What's more, the price-performance ratio is equally impressive. Because the Advent calendar offers a value totalling €529 – at an RRP of €129.
The whole calendar is then stylishly packaged in high-quality gift boxes with reversible designs. Depending on your mood, you can choose between a "Ho Ho Ho" design or a collage with sensual slogans and images.
The Advent Calendar ORIGINAL is available under the item number 06369590000 at ORION.de
And what about the Advent calendar PREMIUM?
The ORION Advent Calendar PREMIUM focuses on couples and offers real highlights for everyone who wants to rekindle their love life or broaden their sexual horizons. Regardless of age, gender or sexual orientation – and regardless of whether you are a beginner or a toy connoisseur.
Hidden behind the doors are real orgasmic wonders such as the ROMP pressure wave vibrator or a We-Vibe couple's toy. But also, lubricants and many other high-quality accessories will inspire passion.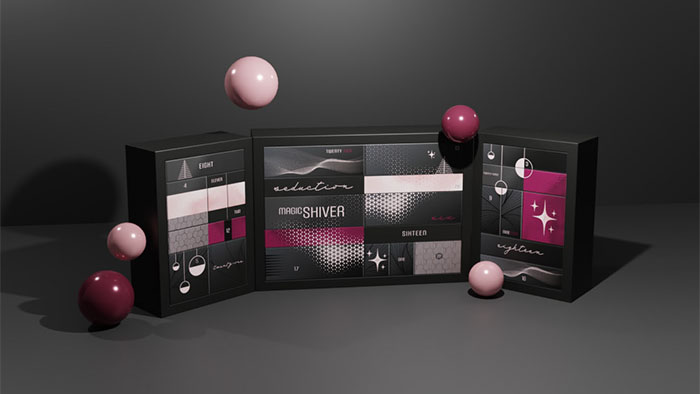 1x couple's vibrator von We-Vibe, 1x pressure wave vibrator from ROMP, 11x toys

4x accessories, 5x cosmetics and 2x soft bondage
That's exactly what the ORION Advent Calendar PREMIUM 2023 offers. And once again, good things don't have to be expensive. Each individual door contains a bestseller with a total value of €629. Of course, in a premium quality and at an unbeatable RRP of €169.
The whole thing is packed in 24 stylish boxes. The fold-out calendar comes in luxurious colours that don't let you imagine what sensual surprises are hidden behind each door.
The Advent Calendar PREMIUM is available under the item number 06382930000 at ORION.de